Books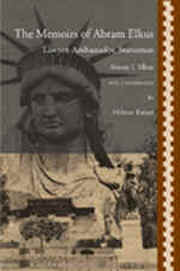 The Memoirs of Abram Elkus: Lawyer, Ambassador, Statesman
with a commentary by Hilmar Kaiser
London: Gomidas Institute, 2004,
vi + 122 pages,
ISBN 1-903656-37-0, paperback,
Price: UK£14.00 / US$20
To order please contact books@gomidas.org
This book is the hitherto unpublished memoir of Abram I. Elkus (1867-1947), a successful new York lawyer and judge. He was a committed democrat and worked to pass legislation for the betterment of living and working conditions for ordinary people in New York City. He also played an important role in the successful election campaign of president Woodrow Wilson in 1912.

Elkus became the last US ambassador to Ottoman Turkey in 1916-1917. Today he is best remembered for his role in saving thousands of Armenian lives, as he continued the work of his predecessor in Constantinople, Ambassador Morgenthau. After WWI he was appointed a member of the league of Nations Commission to resolve the Aaland Islands dispute between Sweden and Finland.

Elkus' public life was cut short because of illness.

The memoirs of Abram Elkus provide fascinating insights into American social and political life around the turn of the 20th century.


« Back to books listing