Books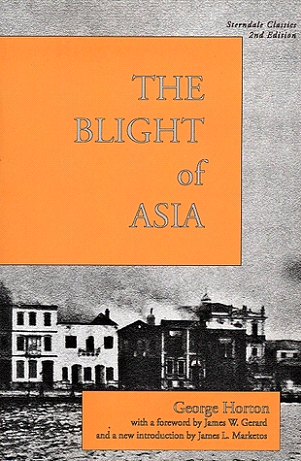 Blight of Asia
with a foreword by James W. Gerard and a new introduction by James L. Marketos 2nd ed.
London: Sterndale Classics, 2008,
208 pp, photos, maps,
ISBN 978-1903656-79-2, paperback
UK£15.00/US$22.00
To order please contact books@gomidas.org

This book was originally printed in 1926. It has been reprinted with fidelity to the original work. Sterndale Classics is an imprint of the Gomidas Institute.
George Horton was the US consul-general in Smyrna during WWI and its immediate aftermath. His account of the burning of Smyrna (Izmir) and the forced exodus of its Greek and Armenian inhabitants chronicles the last stages in the ethnic cleansing of Asia Minor of its native Christian population. According to Horton, the sacking of Smyrna was due to the military prowess of Turkish nationalists, imperial rivalries amongst western powers, and commercial interest groups seeking advantages in the emerging Turkish republic.

This second edition includes a new introduction by James L. Marketos.

SPECIAL NOTE:

The Blight of Asia

was originally printed by Bobbs-Merrill Company in 1926. It is produced here as an original reprint which includes the silent editing of spelling errors, and the addition of an index of proper nouns. [2008

]



« Back to books listing