Books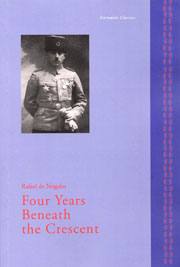 Four Years beneath the Crescent
translated from Spanish by Muna Lee
London: Sterndale Classics, 2003,
356 pp, photos, maps,
ISBN 978-1903656198, paperback,
UK£18.00 / US$27.00
To order please contact books@gomidas.org

This book was originally printed in 1927. It has been reprinted here with fidelity to the original work. Sterndale Classics is an imprint of the Gomidas Institute.

An incredible memoir of a Venezuelan mercenary who served in the Ottoman army during World War I. Nogales was involved fighting Armenians and Russians in Van and Bashkale, and later against the British on the Palestine front. He was an eyewitness to the Armenian Genocide. For a critical account of Nogales, also see Kim McQuaid,
"The Real and Assumed Personalities of Famous Men: Rafael De Nogales, T. E. Lawrence, and the Birth of the Modern Middle East, 1914-1937."
(Gomidas Institute, 2010)
« Back to books listing