Books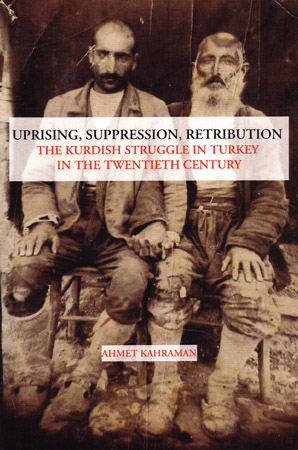 Uprising, Suppression, Retribution: the Kurdish Struggle in Turkey in the Twentieth Century
with an introduction by Mark Muller Q.C.
London: Parvana, 2007,
xiv + 270 pp, photos, map,
ISBN 1-903656-74-7, paperback,
UK£20.00 / US$30.00
To order please contact books@gomidas.org
"An insightful and stimulating account of the history of the Kurdish uprisings, this book is an essential reference point for those with an interest in Kurdish history." - Kerim Yildiz, Executive Director, Kurdish Human Rights Project, London

"One may hope that with authors like Kahraman, Turkey will eventually face her history, learn from it, and let the Kurdish population openly, without fear or reprisal or intimidation, to heal the sore wounds from the past." - Mark Muller Q.C.

About the Author: Ahmet Kahraman is a respected journalist of Kurdish extraction. He has twelve major works on Turkey and the Kurdish issue. He currently resides in Germany. Uprising, Suppression, Retribution was first published in Turkish and banned in Turkey.
« Back to books listing