London Lecture: A New Turkish Project on Aghtamar Island?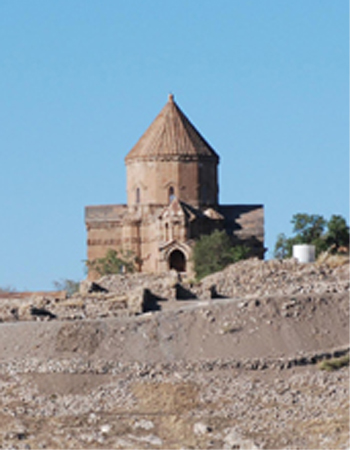 13 March 2007
The Gomidas Institute held its first public discussion on the destruction of Armenian cultural monuments in Turkey, in light of the imminent opening of the renovated Holy Cross church on Aghtamar island in Lake Van.

Speaking to a full house at Haydoon in Kensington, London, Ara Sarafian explained how the Institute had undertaken a special survey last October within a 40 kilometreses radius of Aghtamar island. The survey looked at ancient Armenian monasteries that were still functioning in this region, on the eve of WWI.

Sarafian told the audience that he had already visited Van on many occasions and had studied the area quite closely. He also explained how much historical information was available on the area because of detailed Armenian publications in the late nineteenth and twentieth centuries.

"In our survey the Gomidas Institute wanted to know how much of the Armenian cultural heritage in this region still survives today. We wanted this information so that we could either co-operate with Turkish authorities in the preservation of what remains of our common culture, or to correct any falsification, manipulation or denial of the truth. Even now, on the eve of the opening of Aghtamar island, we do not know if the renovation project is a peace offering to Armenians, or a cynical ploy to manipulate the Armenian issue in Turkey and abroad. We can see both sentiments expressed by Turkish officials."

Only last week, the Gomidas Institute responded to the head of the Turkish historical society, Yusuf Halacoglu, who declared that the re- opening of Aghtamar island demonstrated how well Turkey treated minority populations and safeguarded their cultural and religious properties starting from the 11th century. (See Turkey's Shame: Aghtamar island and the Destruction of Armenian Cultural Properties in Turkey).

According to the Gomidas Institute, 90 percent of functioning Armenian monasteries around Aghtamar island on the eve of World War I were completely destroyed in republican Turkey. Of the remaining 10 percent, most are practically destroyed, and the few remaining structures are on the brink of extinction. This is also the case in other parts of modern Turkey. The survival and restoration of Holy Cross monastery on Aghtamar island is an exception by a very wide margin; it is certainly not the rule.

Sarafian then showed recent photos of different churches and monasteries in this region. The destruction and desecration included completely demolished buildings, ruined khachkars, and huge trenches and holes dug into gravesites. Many monastic complexes were actually flattened.

According to Sarafian, Turkish authorities should be held responsible for allowing such utter destruction—including in recent years. He explained how different scholars have visited and photographed many of these sites over the years, allowing us to trace the actual demise of these historic structures in the decades since World War I.

Sarafian was also careful to relate that in his experience most ordinary people in these regions, who are mainly Kurdish, do not approve of the destruction of these sites, which are also part of their own [Kurdish or Turkish] culture heritage.

On one trip, he met a Kurdish gentleman. When asked about Aghtamar island, this gentleman began telling the story of the island and offered to sing a Kurdish folk song related to the island. The song was about the Vali (governor) of Van who wanted an Armenian girl, but the girl escaped to Aghtamar island, where the "Metrani" (the Catholicos) opposed the Vali's desires and protected the girl.

Sarafian added that many people in this region related well to Armenians and Armenian culture. In fact, much of the local "Armenian culture" is held in common with local Kurds and Turks, which is also reflected in the 14th century Selcuk mausoleum and cemetery at Gevash — ten minutes from Akhtamar island — attests. Fortunately, this cemetery has been well preserved by Turkish authorities, presumably because it can be presented as "Turkish" and "not-Armenian."

According to Sarafian the opening of Aghtamar island may well prove to be a watershed in Turkish historiography because it will inevitably raise fundamental questions:

(1) If Holy Cross Church was built by an Armenian king in the 10 the century, then one has to consider that there was an Armenian civilisation in this area over 1,000 years ago.
(2) If there was such a civilisation, where did this civilisation come from, what did it represent, and what else did it create? It is highly unlikely that Holy Cross church could have been created without an architectural tradition preceding or following it.
(3) If there was such an Armenian material culture in this region, then what happened to it?
(4) And why is it that Turkish narratives of the past 80 years i.e. in textbooks, university courses, museums, or popular accounts not reflected this reality of an Armenian civilization in Turkey? What does this tell us about the Armenians and modern Turkey?

Sarafian ended his talk by expressing the hope that Armenians in the diaspora show a greater understanding and sensitivity to developments in Turkey. He hoped that knowledge about the destruction of Armenian cultural artefacts in Turkey should not lead to new bouts of 'Turk bashing.' He concluded by recognizing that "there are many people in Turkey who are virulently anti-Armenian, but there are also many who are genuinely opposed to the past and present suffering and abuse of Armenians. Such people are amenable to sensible dialogue, especially in a more democratic Turkey, in the interest of truth and reconciliation. However, if such moderate Turks are given reason to think that Armenians mean them harm, of course they will not look on the Armenian issue with equal consideration. I hope Armenians realise the opportunities in front of them and do not waste them." * The Armenian Community (UK) is an occasional publication on British-Armenian affairs. It is sponsored by the Gomidas Institute and Garod Books Ltd.
« Back