Armenian Genocide Commemoration, Turkey, 2013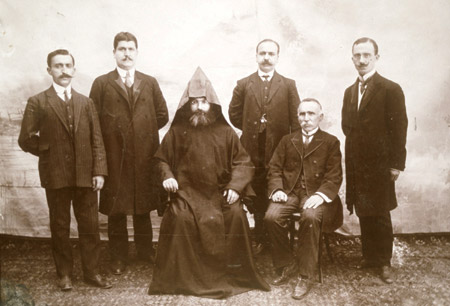 15 April 2013





1. Director of Gomidas Institute to Commemorate Armenian Genocide in Diyarbekir and Istanbul
Gomidas Institute will be active in Turkey to commemorate the Armenian Genocide of 1915. This involvement reflects the Institute's continuing work in Turkey since 1991.
23 April, 2013. Ara Sarafian will visit Diyarbekir, where he will pay homage to the victims of 1915 at Sourp Giragos, Virgin Mary, and Mar Petyun churches. He will meet local officials in the city, including the Mayor Osman Baydemir, and participate in a commemorative event at Ongözlü Köprüsü, Diyarbakir, the city's ancient bridge over the Tigris. This was the location where over 630 Armenian community leaders were sent to their deaths in 1915, followed by the destruction of their communities.
24 April, 2013. 11 a.m. Sarafian, accompanied by the representatives of the Human Rights Association of Turkey, will visit the grave of Ali Faik Ozansoy at Zincirlikuyu Cemetery, Esentepe Mh., 34394 Şişli/Istanbul. Ali Faik Ozansoy was the Mutasarrıf of Kutahya who refused to deport the Armenian population of his province in 1915. Sarafian will pay tribute to Ozansoy and other righteous Ottoman officials who opposed the persecution of Armenians.
At 12:30 p.m. Sarafian will participate at the main commemorative event organised by the Turkish Human Rights Association (IHD) in Istanbul. The commemoration will take place at the Turkish and Islamic Arts Museum, Atmeydanı Caddesi 46 Sultanahmet/Istanbul. This was the city's central prison in 1915 and Armenian intellectuals who were arrested on 24 April 1915 were held there before being sent into the interior of the Empire. This year's commemoration is particularly important because it will give voice to the Seyfo – the destruction of Assyrian communities in upper Mesopotamia in 1915.
After this commemorative event, Sarafian will join the IHD delegation visiting the Armenian Cemetery in Şişli to pay tribute to the memory of Sevag Şahin Balıkçı, the Armenian private shot dead while doing his military service in Diyarbekir on 24th April 2011. Sarafian will then visit the photo exhibition, "Before 1915: Assyrian Life in the Ottoman Empire," at IHD Main Office, Çukurlu Çeşme Sokak, Bayman Ap. No: 10/1, Taksim/Istanbul.
For more information visit www.gomidas.org or email info@gomidas.org or join our mailing list.
* Ara Sarafian is a historian specialising in late Ottoman and modern Armenian history.
He is the director of the Gomidas Institute – an independent academic
institution dedicated to modern Armenian Studies and research.
« Back