A New Bridge Building Initiative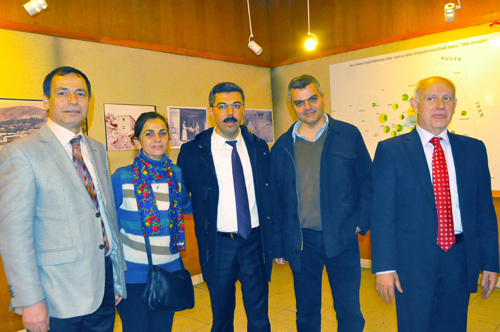 On March 1-2, 2014, the Gomidas Institute presented a special exhibition in Tatvan, on the banks of Lake Van, entitled, "Bitlis Ermenileri." This exhibition aimed at building bridges between Kurds and Armenians - bridges that were destroyed during the Armenian Genocide and the Turkish Republic.
The "Bitlis Ermenileri" exhibition was made possible with the help of many partners in Bitlis - including the Mayor of Tatvan - and other friends of the Gomidas Institute. The Turkish Human Rights' Association (IHD) also supported this exhibition by sending three delegates to the opening.
The exhibition was a success and the visitors included the current mayor of Bitlis, who was elected the following week in municipal elections. The exhibition also received good coverage in the Kurdish press.
At the end of March, the "Bitlis Ermenileri" exhibition, now called "Remembering the Armenians of Bitlis" was presented at the Peters Library at CSU Fresno, for all of April, 2014. The Peters Library was endowed by Armenians who were originally from Bitlis.
The core of the exhibition consists of ethnographic maps of Bitlis and surrounding regions, as well as dozens of photographs of Armenians from that region going back as far as the 1880s. Most of the photographs came from Mt. Holyoke College Archives.
Ara Sarafian, the Director of the Gomidas Institute, opened both exhibitions.
_______
Our initial project was successful and it has led to more projects which can be followed on our website and beyond. The work continues.


24 February 2014. "Remembering the Armenians of Bitlis." Press announcement about upcoming Bitlis exhibition in Tatvan. English and Turkish.
8 March 2014. "Ez kurbana te bim," Özgür Gündem (Turkish).
27 March 2014. "Exhibition of Bitlis Armenians Held in Tatvan"
May 2014. "Exhibition on 'Armenians of Bitlis' in Madden Library," HyeSharzhoom
.
17 July 2014. "Making it Happen in Bitlis. Press release." Press release about renaming street in Bitlis after William Saroyan.
8 August 2014. "On the 50th Anniverary of Saroyan Visit to Bitlis - Street Renamed in His Honour." GI Blog.
20 August 2014. "Renovating a Church in Bitlis." GI Blog.
6 July 2014. A Painful Past- Remembering Hormuz. GI Blog.
« Back to projects