Armine, Sister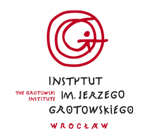 24 November 2013.

Theatre ZAR has successfully premiered its production "Armine, Sister" dedicated to the Armenian Genocide. The premiere was accompanied with exhibitions, music concerts and film screenings. For more information see www.grotowski-institute.art.pl
______________________
Warsaw, May 7-27, 2013.

Several Armenian related events have been scheduled as part of the city's 20 day festival of reflection during the Lent period.
11:00 noon. The opening of the festival was followed by the opening of "Witnessing after Witnessing" at
ul. Krakowskie Przedmieście, the main square at St. Ann's Church. This exhibition on the

Armenian Genocide takes place on one of the most prominent streets of Warsaw and will remain for the entire festival period.



Forthcoming...



Fri 8 March, 8pm, Cathedral of St. John the Baptist, ul. Kanonia 6
Passion: Fragments, based on Krzysztof Penderecki's St. Luke Passion
Concert in homage to Armenia as part of a program of events celebrating the 80th anniversary of the birth of Krzysztof Penderecki

Thu 14 March, 1 floor, ul. Foksal 11
6:00 pm, A History of Genocide: Memory, Continuity and Defiance
In conversation with Ara Sarafian and Ragıp Zarakolu

7:30pm "Who, after all, speaks today of the annihilation of the Armenians?" A History of Ignorance
Panel discussion with participation of Szewach Weiss, Krzysztof Czyżewski, Witold Szabłowski and Jarosław Fret

Thu 21 March, 7pm
Holy Trinity Church, pl. Małachowskiego 1
Columns. Armenian liturgical chants
Concert presented by the Kerovpyan family and members of Teatr ZAR with special guests Nışan Çalgıcıyan and Murat İçlinalça.


_______________________

Wroslaw, November
2012

: The first set of exhibitions, workshops, and discussions took place in Wroslaw. Topics ranged from Armenian cuture and liturgical music, to the legacy of the Armenian Genocide, and the destruction of Armenian culturual patrimony in Turkey.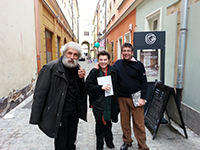 Grotowski Institute

and workshop participants
« Back to projects